5 Tips For Camping With Dogs
Hallelujah, Provincial and National campgrounds have started to open up again and are even slowly expanding capacity! All the more reason for Albertans to explore this beautiful province of ours! Plus it's a great way to spend time with family, friends and of course our fur babies.
Whether you like to camp just outside of Edmonton or in the Rockies, there are many things to consider before heading out to ensure that you are well prepared and that everyone has a great time. 
Things like: 
Researching the rules and regulations of where you intend to camp

What kind of pup do you have?

Is your pup treated for ticks and fleas?

What supplies does your dog need?

Bringing a Pet First Aid Kit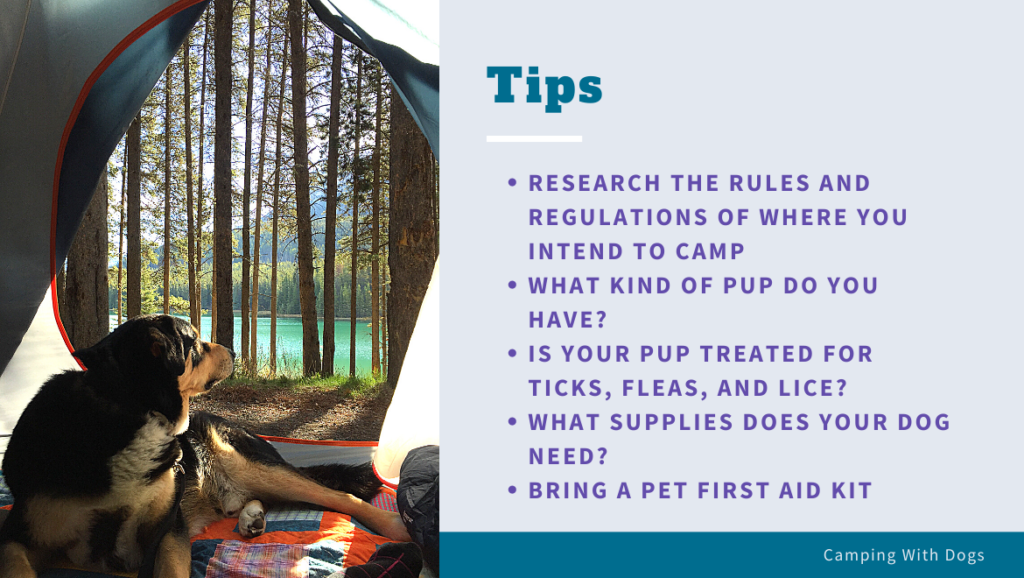 Research rules and regulations of where you intend to camp
While most Provincial and National campgrounds welcome dogs on their sites, it's a smart idea to ensure dogs are permitted where you are camping. During your stay, all dogs must be on a leash that is less than three meters long and under control at all times. Why? Keeping your dog on a leash not only keeps them safe but keeps wildlife safe as well. Dogs can attract wildlife like bears, cougars, wolves, or coyotes that can potentially attack. As usual, it is also crucial to clean up after your dog and dispose of their waste correctly. If you are camping in a campground, using waste receptacles is perfect. If you are backpacking or camping in the backcountry, it is required to carry any waste out and to dispose of properly. 
What kind of pup do you have?
Is your dog a bit anxious or leash reactive? As one of Edmonton's dog walking companies who work with many dogs who are both, we recommend booking a more secluded site that doesn't have a lot of traffic. It will help keep your dog's stress levels to a minimum during your trip. Knowing your pup's physical ability will help determine what activities to plan and perhaps where you will want to camp. So if you and your dog like to hike, canoe, paddle-board, or trail run, keep that in mind when you book your site. 
Is your pup treated for ticks and fleas?
Pets can acquire parasites of all kinds under many circumstances, but there is a higher risk of parasites like ticks and fleas when camping. Ticks love warm weather and heavily wooded areas. Before heading out, check that your dog's vaccinations are all up to date and ask your veterinarian for the best preventatives against ticks and fleas. Many options include topical ointments, collars, pills, shampoos, and pet-friendly sprays. If you do find a tick latched onto your or your pets, remove them as quickly as possible to prevent the risk of contracting diseases like Lyme disease. It is also vital to remove them correctly or have a veterinarian do so if you do not know how. The Alberta SPCA site has some more information on fleas, ticks, and Alberta's tick surveillance program. 
What supplies to pack for your dog?
Let's start with the basic stuff you want to make sure that you have:
A leash, cable, and anchor

Endless supply of poop bags

Extra food, treats, and bowls

Favourite toys

Towels
Whether you are tenting, have a trailer or an RV, you'll want to make sure your dog will have a warm and comfortable sleep. Blankets, beds, cots, and sleeping bags are great things to bring for when your dog turns in for the night. If you and your pup love canoeing, boating, or paddle-boarding, remember to bring a well-fitted life jacket for your dog as well. Packing extra water is also a good idea for those of you who are avid hikers. As many of you know, Alberta's weather can be unpredictable at times, rain gear and rain jackets are always a must, even if rain isn't in the forecast. Keeping your dog dry will help keep them warm during the evenings, especially if you are tenting. 
Bring a Pet First Aid Kit 
Of course, having a first aid kit available is a no brainer, but have you ever thought about what a pet first aid kit would include? Though most supplies are the same, some things are pet-specific. You will want a pet-specific thermometer in your kit to ensure there is no cross-contamination. Typically, pet temperatures are taken rectally for the most accurate reading. A significant increase or decrease in your pet's temperature is a good indicator that something is wrong. Other more pet-specific medical supplies include, but are not limited to:
Hydrogen Peroxide 3% (Not for wounds, but to induce vomiting if advised by a veterinarian)

Lubricating Jelly (To lubricate thermometer)

Vet Wrap (Self-adhesive wrap)

Clean Syringes (Administer Small amounts of water/meds)

Splinting Items (For Broken/dislocated limbs)

Meds Specifically Prescribed For Your Pets

Muzzle or Material That Can Be Used To Muzzle

Milk of Magnesia and charcoal (Absorb poisons)

Styptic Powder (Stop bleeding from a nail)

Chicken Broth or Tuna Juice
We suggest carrying a human and pet first aid kit on your 'person' anytime you are venturing away from your vehicle. And to have another set of first aid kits in the car, just in case. 
Did you know that most of our team at Dog Jogs are Walks 'N Wags Pet First Aid Certified? Our goal is to get everyone on the team certified once COVID has calmed down. These skills and knowledge enable our team to work through any situation that may present during services with our Edmonton dog walking or jogging clients. Are you interested in getting Walks 'N Wags Pet First Aid Certified as a pet parent? We have great news! Nikki and Steph happen to be Certified Walks 'N Wags Pet First Aid Instructors! While they are not offering in-person classes just yet, they have scheduled a tentative class on November 22, 2020. Contact us if you have any questions, or you register here to save your spot! Don't think you're ready for in-person classes just yet? The course is offered online with the same certification, register here for the online course.
We wish you a fantastic summer with your family and fur babies!